In The Media
Innovation's Family Tree: Maine's Home-grown Science Is Coming Into Its Own
While it may not have the cachet of biotechnology hubs like Boston and San Francisco, Maine is home to a growing concentration of companies, research laboratories and professionals working in life sciences.
In fact, more than 200 life-science organizations are now based in the state, according to the Bioscience Association of Maine. An estimated 6,600 Mainers work in the field, up 3.3% from 2014.
"Maine's industry is a little cluster," says Gary Goodrich, a board member of the association. "It crosses a lot of different areas."
Goodrich should know. Nearly 30 years ago, he founded Bioprocessing Inc., a maker of proteins used for diagnostic testing, in Scarborough.
A small company just has to find its own niche. For most of the bioscience companies in Maine, growth is organic — it's bootstrapping. That's the Maine way.

— Gary Goodrich Bioscience Association of Maine
In 2012, after building it into a 20-person company and expanding into a larger Portland facility, he sold his business to Bio-Rad Laboratories (NYSE: BIO), a California company with annual sales of $2.2 billion.
"We didn't have to be big," he says. "A small company just has to find its own niche. For most of the bioscience companies in Maine, growth is organic — it's bootstrapping. That's the Maine way."
Keeping it local
Another company following that path is Portland-based ImmuCell Corp. (Nasdaq: ICCC). ImmuCell, which makes preventative health products for dairy and beef cattle, launched in 1982. Since then, it has carved a niche slowly, carefully and with little public attention.
The years of work now seem to paying results for the 50-person business. In 2017, it constructed a $20 million manufacturing facility. Earlier this year, ImmuCell completed a $9 million public offering. The company also posted its most successful first quarter for sales, $4.4 million, a 53% increase over the first three months of 2018.
"[The growth] is really about guys from here," he says. "All those professionals aren't just going to come out of Boston."
Instead, many of them come from other Maine companies.
Maine's bioscience family tree
ImmuCell traces its roots to founders who had worked at Ventrex Laboratories Inc., a diagnostic testing company founded in Portland during the mid-1970s. Goodrich worked at Ventrex for four years before launching his company. And Westbrook-based IDEXX Laboratories Inc. (Nasdaq: IDXX), another biotech company specializing in animal health, was launched in 1983 as a spin-off of Ventrex.
In total, Goodrich estimates, such connections to Ventrex and another Maine bioscience pioneer, the Foundation for Blood Research, have spawned more than 20 Maine companies.
But the bioscience industry in Maine has also been nurtured by other long-standing research organizations.
Off the beaten biopath
Some of the best science in Maine is being done far from the corporate world, at sites including MDI Biological Laboratory, in Bar Harbor, and Jackson Laboratory, in Bar Harbor and Ellsworth.
Both are independent, nonprofit institutions and together have been responsible for a host of biological breakthroughs over the course of decades. MDI was founded in 1898; Jackson Lab, also called JAX, in 1929.
Scientists have flocked to Maine, drawn sometimes by the availability of marine animal specimens — and sometimes by the chance to work in picturesque settings, far from the pressures of huge research universities and traditional academic labs.
She cites the state's quality of life, natural beauty and low crime rate. In meetings at JAX and with scientists from other Maine research institutions, she says, "I'm often the only Maine native in the room."
But just as important, she says, is the collegiality of those in the room.
"There's a natural inclination to collaborate here," she says. "You don't have to wend your way through layers of people; the collaborations are easier to navigate. There is less sense of being proprietary."
A scientific network
James Coffman, a principal investigator at MDI, credits some of the scientific collaboration in the state to a group of research and educational institutions, the Maine IDeA Network for Biomedical Research Excellence. The Maine INBRE is one of two dozen such federally funded networks, intended to foster research work and scientific training in states that typically don't host much of it.
"The idea is that in some small, isolated places, you don't have the critical mass," Coffman says. "We're connecting all those places … We're not a huge bureaucracy. We're light on our feet."
The Maine INBRE recently received an $18 million grant from the National Institutes of Health to support its ongoing work. And the network seems to be paying the investment forward. In addition to providing $86 million in direct federal funding to the state, the INBRE has attracted $80 million in additional federal grants, provided research training for 2,250 Maine students and created more than 100 new jobs.
The network's members too are having an impact. In Maine, JAX alone employs 1,400 people; its workforce lives in 14 of Maine's 16 counties, 67 zip codes in all.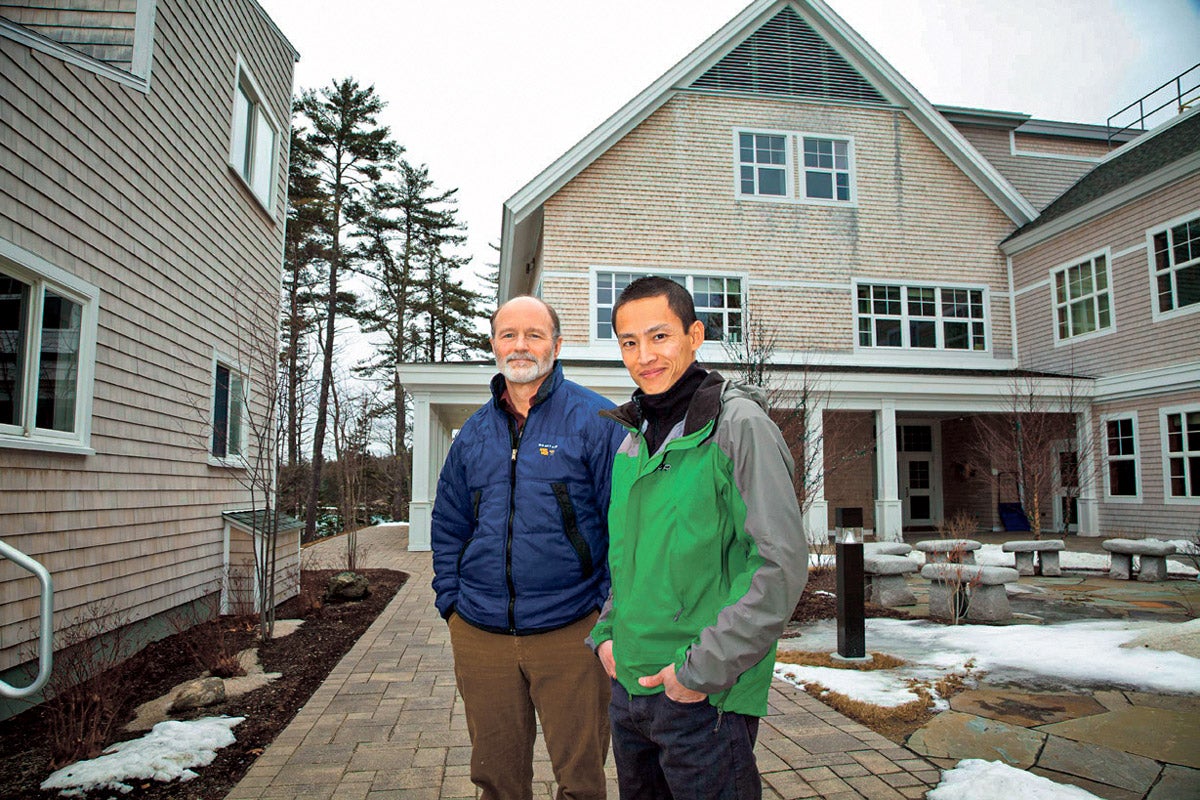 FILE PHOTO / LESLIE BOWMAN
The INBRE members are also having effects in Maine and beyond.
And at JAX, research mice specially cultivated in the lab's new 135,000-square-foot vivarium are helping advance science internationally. In fact, Jackson Lab mice have been distributed to more than 25,000 researchers in more than 1,900 institutions in 75 countries.
"Anytime there's significant science using a mouse model, more often than not it's a JAX mouse," says Ballesteros.
FILE PHOTOS / TIM GREENWAY
New generations
In Maine, the relationships between science and business have always been close. You might even say, familial.
In 2010, IDEXX founder David Shaw and his son, Benjamin Shaw, launched Vets First Choice, a pharmacy and technology provider for veterinary practices. Then, in February, Vets First Choice merged with the animal supplies business of Henry Schein Inc. (Nasdaq: HSIC) to form Covetrus Inc. (Nasdaq: CVET).
Such explosive growth is possible partly because of the company's focus on animal health, according to Brigham, at ImmuCell.
Regulation, financing and other potential hurdles present a "much lower barrier to entry" in bioscience products for animals than for humans, Brigham believes.
You never know where the next big breakthrough is coming from.
— James Coffman MDI Biological Lab
"It's hard to start small in human health. There's a much greater chance of being the next Covetrus than the next Amgen," he says, referring to the California-based multinational company.
It's too early to tell if the treatment will catch on, even in a marijuana-friendly Maine. But researchers remain optimistic about the potential of the state's home-grown science.
"You never know," MDI's Coffman says, "where the next big breakthrough is coming from."