In the Media
Workforce Development Roundup: Employers in Maine Are Working the Angles
In 2000, MDI Biological Laboratory in Bar Harbor launched the statewide IDeA Network of Biomedical Research Excellence. The network comprises 13 research and academic institutions creating a technically skilled workforce by providing biomedical research experiences and training to undergraduates and research support and mentorship to young faculty members.
Workforce development spans a wide array of initiatives throughout Maine. Training programs for everyone from youth to retirees aim to bolster all levels of the labor force. Outreach is underway to reach former Mainers and entice them back home with the prospect of good careers. Many programs, sponsored by employers, serve as job pipelines. Industries served span the gamut, from hospitality to the trades to biosciences and aquaculture. Here's a sampling of initiatives seeing excellent outcomes.
Training dental assistants
In response to a pressing need throughout Maine's dental industry, Yarmouth Dental co-owner and business manager Marcy Boynton five years ago co-founded VIP Dental Assistant Training in Maine. The state-licensed program offers requisite training, conducted one full day per week for 11 weeks.
PHOTO / TIM GREENWAY
Live and Work in Maine Executive Director Nate Wildes traveled the state earlier this fall to sign up businesses like bars and restaurants — the places where people like to hang out — and distribute swag that would convey the "live and work in Maine" message.
The program, conducted spring and fall, enrolls up to 16 students coming from throughout Maine. Instruction takes place at Yarmouth Dental. It includes lectures, hands-on practice in the facility's operations, laboratories and sterilization room, as well as job shadowing. Marketing is mainly through social media and word-of-mouth.
Outcomes:
Over 100 dental assistants graduated
Nearly 100% placement
Most are hired by practices where they job-shadowed
Some pursue further education
Full enrollment expected this spring
In 2020, Boynton plans to launch Prospect Staffing, an online platform to match dentists with trained assistants and hygienists.
"Over the last five years I've been inundated with calls and emails from practices all over Maine, New Hampshire and Massachusetts, from practices looking for dental assistants," she says.
Catching 'boomerang' Mainers
In November, Live and Work in Maine launched its second "Boomerang" campaign to increase awareness about career opportunities in Maine. The statewide effort, focused on Thanksgiving week, targeted the "boomerang" demographic – people with a Maine association, perhaps growing up or visiting here, but currently not in Maine.
PHOTO / COURTESY OF LIVE AND WORK IN MAINE
The campaign aimed to reach the many people visiting Maine at places they hang out, like bars and restaurants.
"Our objective is to get in front of them while they're here, and get out the message that they're wanted here, that there's enormous opportunity in Maine," says Nate Wildes, executive director of Live and Work in Maine.
Wildes contacted venues one-on-one and through partnerships with chambers of commerce, the Maine Brewers' Guild and other organizations, distributing Live and Work in Maine swag such as coasters and glassware.
"They'll be serving a lot of Maine craft beer on 'Live and Work in Maine' coasters," says Wildes. "Our hope is to create ambassadors for this message."
Some businesses co-branded things like menus and brews. Partner venues were promoted on various platforms and were asked to promote on their own marketing channels. During Thanksgiving week, media outlets, Live and Work in Maine, and other partners stopped by to capture promotional images and video.
Outcomes:
Several dozen venues signed up in 2018; nearly 100 signed up in 2019
2018's estimated reach was tens of thousands of people engaged through venues and social media. Hundreds of thousands expected for 2019
A leg up for logging industry
It's been two years since the launch of the first training program for mechanized logging operations, but the program is already paying off.
The program was developed in a partnership between Professional Logging Contractors of Maine, Northern Maine Community College, Eastern Maine Community College, Washington County Community College and industry leaders like Milton CAT and Nortrax.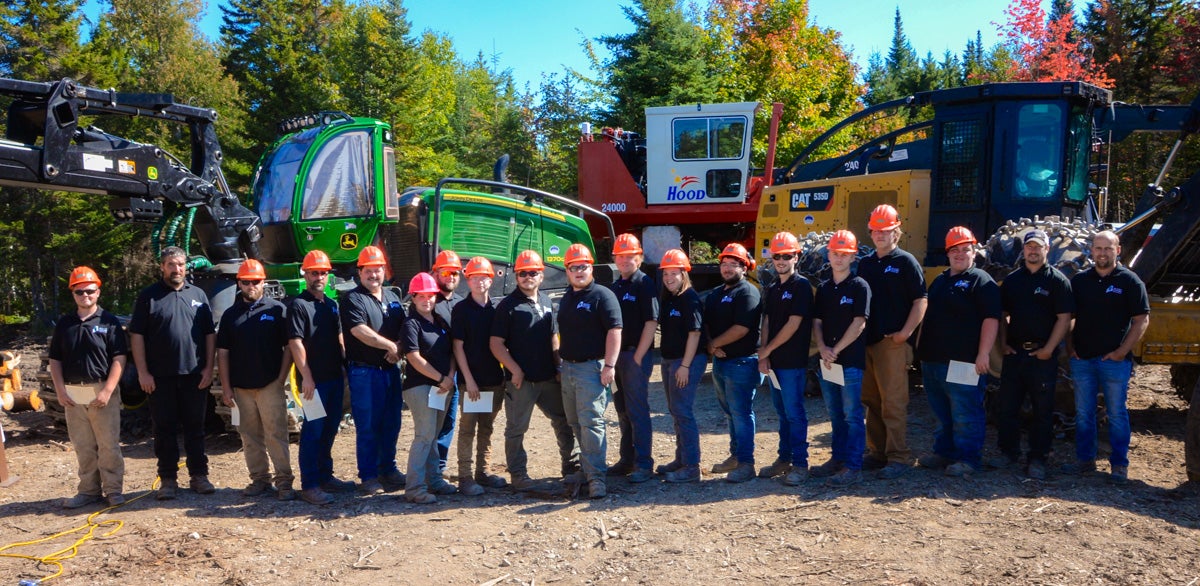 PHOTO / COURTESY OF PROFESSIONAL LOGGING CONTRACTORS OF MAINE
Supported through Maine Quality Centers, the free program gives students hands-on overviews of mechanized harvesting equipment, timber growth, tree species, markets and safety.
Outcomes:
Third and largest class, with 15 students (including the first two women), graduated in September, with a 100% completion rate
The class received nearly 50 job offers
12 have taken jobs in the industry
Entry-level jobs average $43,000 in the first year
Plans are underway for two classes in 2020, with a goal of enrolling 30 students
An aquaculture certificate program
In September, the University of Maine's Aquaculture Research Institute received a $123,735 federal workforce development grant to roll out a 12-credit aquaculture certificate program.
PHOTO / COURTESY OF JEFF KIRLIN
Designed in response to Maine and East Coast aquaculture workforce and extension needs, the low-cost program includes learning modules and industry and academic internships. Pilot modules will be taught at UMaine's Aquaculture Research Center and Aquatic Animal Health Laboratory, both in Orono; Darling Marine Center in Walpole; and Center for Cooperative Aquaculture Research in Franklin.
Outcomes:
12 UMaine undergraduates held paid internships this past summer; future interest is expected from coastal residents and adults looking for career change. Internships will continue in summer 2020
First module on recirculation aquaculture systems to launch spring 2020 and second on shellfish husbandry in summer 2020. Additional modules scheduled for academic year 2020-21
Future modules could include sea vegetable farming and biosafety
Creating technically skilled biotech workers
In 2000, MDI Biological Laboratory in Bar Harbor launched the statewide IDeA Network of Biomedical Research Excellence. The network comprises 13 research and academic institutions creating a technically skilled workforce by providing biomedical research experiences and training to undergraduates and research support and mentorship to young faculty members.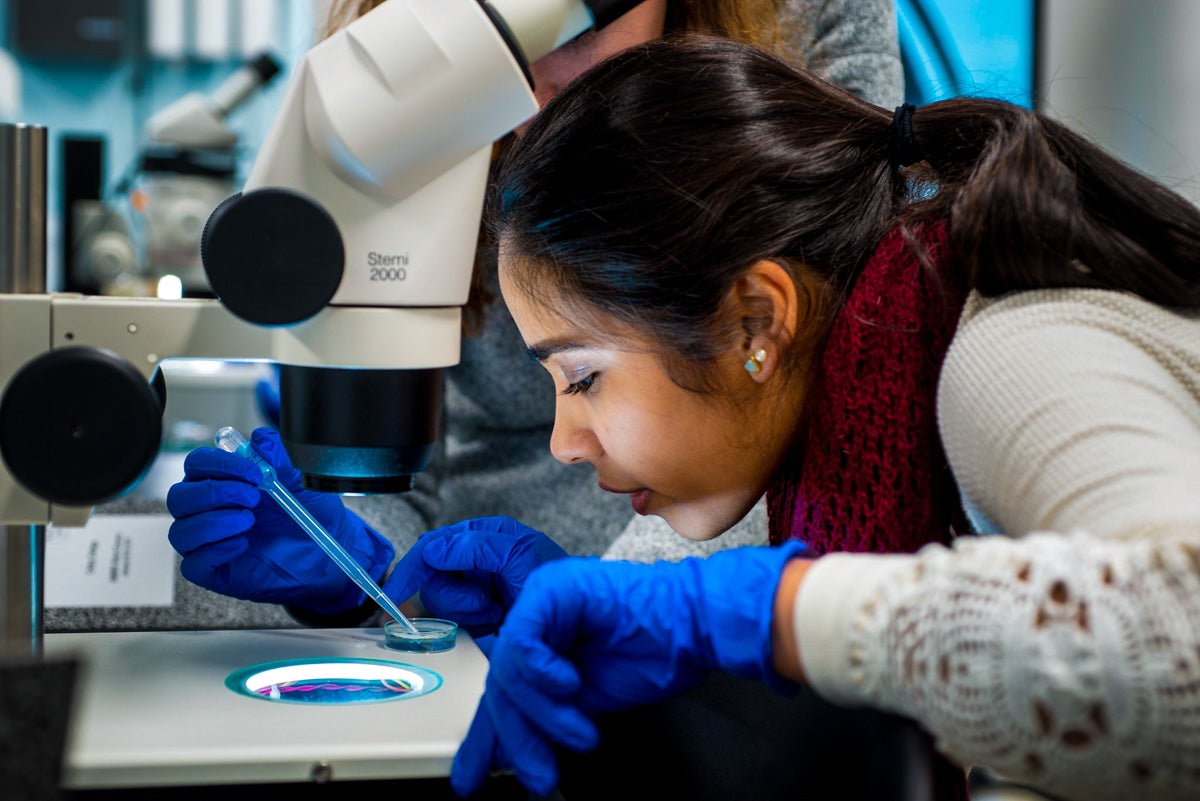 PHOTO / COURTESY OF MDI BIO LAB
In May, the lab received nearly $18 million from the National Institute of General Medical Sciences to fund the network's renewal for another five years.
Outcomes:
Since 2000, generated more than $160 million in federal funding
Trained nearly 3,000 Maine students
Created more than 100 full-time jobs in Maine's life science sector
Revving up trucking jobs
Bangor-based Hartt Transportation Systems Inc., like the trucking industry in general, is facing a driver shortage. In 2018, Hartt President Jeff Castonguay told Mainebiz recruitment initiatives included working with Bangor's Eastern Maine Community College to develop training programs; setting up apprenticeships for promising graduates; and reaching out to law enforcement, firefighter and military retirees considering a second career.
In June, those efforts expanded with the creation of a driver-training program, says Scott Welch, HR director for Hartt. Trainees must already have a commercial drivers license and be 21 or older. The program, based at Hartt's Auburn terminal, provides 300 hours of one-on-one instruction. An additional 100-hour program provides regional road training. Welch credits De Echols, Hartt's Northeast recruiter, with helping to develop the program.
The program recently graduated its fourth driver
Average age: early 40s.
Many previously drove professionally, like dumptrucks, but not commercial tractor-trailers; others retired from different professions
Goal: train 10 to 15 drivers per year
Hartt's turnover ratio: 32%. National average: 105%
Building shipbuilders
Navy contracts and looming retirements are driving a dramatic expansion of Bath Iron Works' recruiting program. Beyond traditional talent acquisition (online job boards, career fairs), examples include a pipeline partnership with Maine Community College System. A key program, with partners Southern Maine Community College and Maine Quality Centers, created pre-hire credential training for general manufacturing skills and welding. Courses are free and offered either full-time or part-time after hours. The full-time program offers a weekly $500 stipend. Graduates are guaranteed BIW job interviews. So far, BIW trained or is training almost 200 people; and hired over 100.
BIW partners with Penobscot and Loring Job Corps to bring upcoming graduates of their trades-based programs to BIW for tours and pre-interviews. In 2019, BIW executed over 170 recruiting events and visited Maine's 27 career and technical education schools; the last round of visits reached 5,500 students. BIW introduced an expanded media campaign, attended local fairs, maintains a presence at Red Claws and Mariners games, airs a short video during many movie theater previews, introduced a relocation bonus, and instituted employee referral programs.
Outcomes:
Over 1,500 people hired in 2019, BIW's largest hiring year in nearly three decades
Another 300 to 400 to be hired by year's end, and another 1,000 in 2020
Custom apprenticeships
Maine Department of Labor's Maine Apprenticeship Program is increasingly popular. Businesses work with staff to custom-design apprenticeships, using templates that identify job-training and classroom needs. Employers commit to safe work environments, supervision, training, incremental wage schedules, and recruitment and selection strategies.
Outcomes:
Maine currently works with 112 sponsors of apprenticeships that support 196 businesses and 905 apprentices in multiple industries, including healthcare, construction, manufacturing, hospitality, education and shipbuilding
The program is working with 72 additional businesses interested in becoming sponsors
In July, the program received a three-year $752,812 federal grant to expand Maine apprenticeships
Earn while you learn
Maine's largest construction company, Pittsfield-based Cianbro, has offered earn-while-you-learn programs for many years. In 2007, it established the Cianbro Institute to meet workforce needs. In 2017, it opened a state-of-the-art center to conduct a variety of sessions including but not limited to hands-on, skilled-trades instruction, new-hire orientation, safety programs, leadership development, internships and school visits with tours and hands-on activities.
PHOTO / COURTESY OF CIANBRO
Cianbro additionally offers situational skills development at its 40-acre simulated work environment, welding laboratories, and job-site instruction. Industrial Construction Boot Camp teaches basic skills in pipefitting, millwrighting, ironworking, electrical and carpentry and concrete work. Participants earn while they learn. Upon completion, they receive a significant increase in pay and project assignments to continue learning on the job.
"The boot camps have been a great feeder system for our apprenticeship programs and a great opportunity for these folks to begin a successful career," says Dan Coffey, director of the Cianbro Institute.
Cianbro Institute typically educates over 1,000 team members per year
In 2019, 69 team members participated in Industrial Construction Boot Camp
By Laurie Schreiber
---
View Original Article